Willkommen auf Funpics4ever.com der Seite für Lustige Videos, Funpics, Picdumps und Browsergames
Jeden Tag neue lustige Videos, coole Funpics, Picdumps und Spiele, Sexy Babes uvm. Der tägliche Blödsinn aus dem Internet. Your Daily Entertainment.
Mix
Video der Woche

Car out of control. ...
Hier war der rettende Engel mit an Bord. Car spins out of control. You won't believe how it ends...
Werde Fan von Funpics4ever
Funpics4ever Newsletter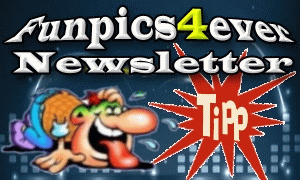 Partnerseiten
Beliebteste Videos

SHARK PRANK - Hai Attacke
Love Sucks Compilation

Mülltonne Explosion.

Frau und Mann im Fahrstuhl
Bubble Porn
Miss Reef 2015

Die perfekte Hausfrau

Slow Life - Hund Anton seine Geschichte

Slacklinen über Krokodilen

Funny Christmas Song - Betrunkenes Rentier!